The Co-Evolving Nature of Inequality
As the world strives to accelerate action towards sustainability, inequality prevents socially sustainable solutions. Inequality is persistent, and it is associated with multiple social and health problems. Inequality is also related to risks in the new planetary reality of a changing climate and biodiversity loss.
High levels of inequality are associated with many societal problems, including physical and mental health, drug abuse, obesity, violence, societal tension and conflicts. This holds true in both low- and high-income countries. Further, wealth inequality across countries can undermine the achievement of agreements and actions in tackling global issues such as climate change and biodiversity loss. 
Both inequality and inequity affect sustainability. Inequality refers to an unequal distribution, for example, of resources. Inequity refers to underlying differences in opportunity, for example, to acquire those resources. In other words, inequity highlights the need to deal with unfair competitive disadvantages to avoid reinforcing cycles of inequality.
Breaking the cycles that maintain inequalities and creating conditions for equality are key challenges in the steering of development towards just futures on a thriving planet.
Inequalities are amplified in the Anthropocene
The wealthiest of the world's population contribute most to increasing pressures on the planet, while the poorest will suffer most from the climate crisis and other challenges. Without counteraction, the ever-increasing environmental challenges of the Anthropocene will further amplify inequalities over the 21st century.
Many high-income countries (A and B in the figure) carry a historical responsibility for global warming and rising sea level. Some of them (A), like low-lying the Netherlands, must adapt to these consequences and have the ability to do so. Others (B), are less vulnerable and might be less inclined to mitigate any consequences. Lower-income countries (C and D), on the other hand, have limited historical responsibility and a much lower ability to cope with the consequences to which low-lying countries (D), like Bangladesh, are most vulnerable. 
Pull the handle to modify the figure.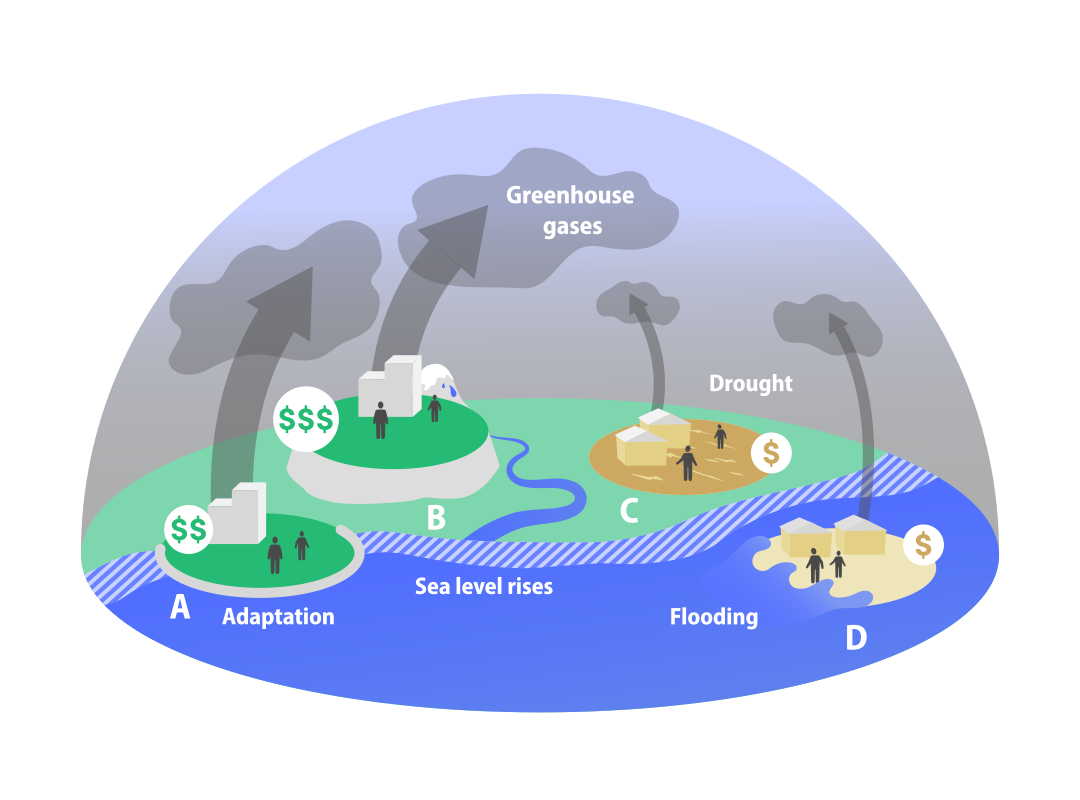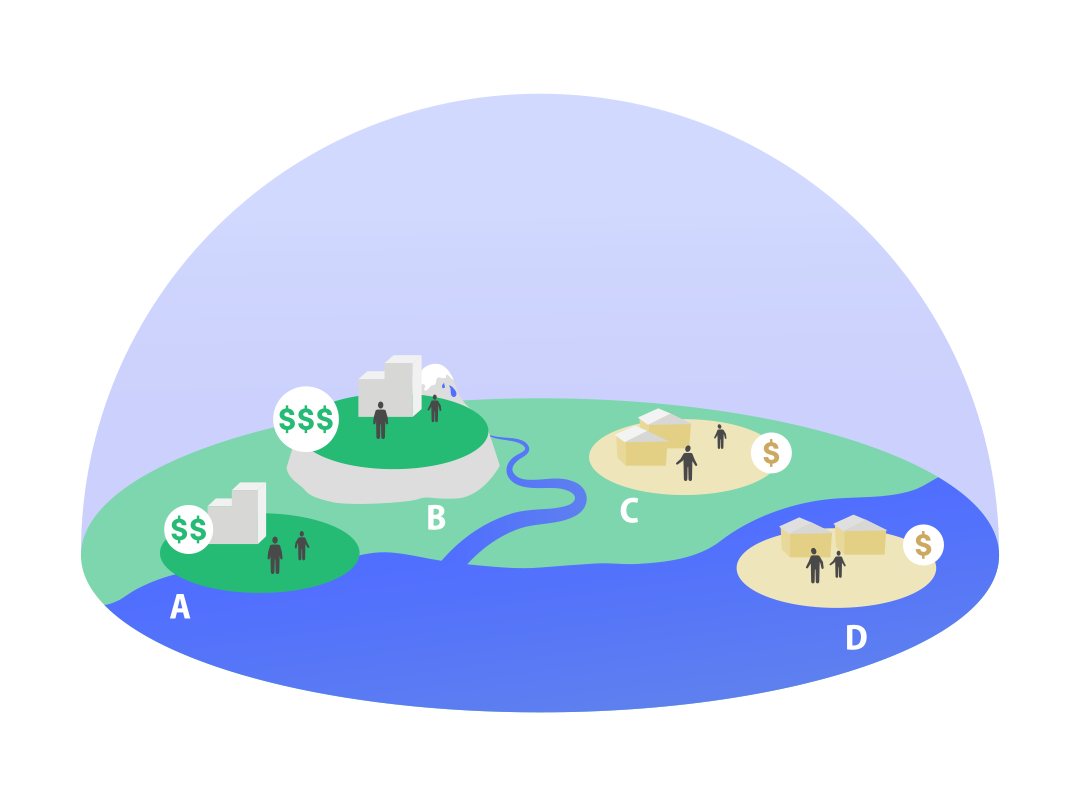 High-income economies that have disproportionate impacts on climate and the biosphere, are better prepared to deal with risks, shocks and surprises than lower-income countries. Gradual environmental change, more frequent extreme weather events and pandemics, alongside limited capacities to mitigate consequences, risk worsening the consequences and exacerbating inequalities among countries.
Tax havens reinforce mechanisms of inequality
Transfers of capital to tax-haven jurisdictions are not illegal, but they are known to reduce financial transparency. By undermining the tax base, these tax havens undermine the capacities of national governments to engage in climate and biodiversity action to achieve the Sustainable Development Goals. This reinforces inequality by allocating economic resources and risks in unequal ways.
The publications of the "Paradise Papers" (2017), the "Panama Papers" (2016), and the "Bahamas Leaks" (2016) show how individuals, corporations, and financial institutions engage in aggressive tax planning, tax avoidance and, at times, even money laundering, by exploiting the opacity offered by tax havens. 
Investors and governments can, and should, play an active role in trying to address these issues and promote tax fairness.
Big financial actors and transnational corporations must take the lead, but will they?
Access to biosphere resources is unequal, and big financial actors together with transnational corporations are currently at an advantage to exploit resources under poor institutional stewardship. However, they can also choose to take leading roles towarda a just and sustainable future – which they too should benefit from in the longer run. Unfortunately, this goes against many of the current institutional and incentive structures.
Investors can take action by asking companies about their use of tax havens to assess whether it is legitimate or not, and by requiring large multinationals to disclose taxes paid in each country. Investors can also encourage portfolio companies exposed to the extractive sectors to ask their business partners about basic ownership information.   
Equitable solutions are urgently needed to strengthen the resilience of the biosphere and ensure a just future for coming generations. Extractive sectors that impact the resilience of our living planet should be prioritised as this work continues.